27 October 2022
What is Coworking? A Complete Guide to Choosing the Coworking Space for You
There's a good chance you've heard of coworking, but what is it, exactly? Coworking has become increasingly popular over the last few years as it offers people the flexibility to work from anywhere at any time. As more people are embracing coworking, it's important to understand what it is and how to choose the right space for you. In this blog post, we will define coworking, outline the different types of spaces and provide tips on how to find the perfect one for your needs.
What is Coworking?
Coworking is a way of working in which people from different companies or organizations share an office space. It is often used by freelancers, remote workers, and independent professionals who want the benefits of a traditional office without the commitment or cost. coworking spaces provide a community feel and offer amenities such as conference rooms, event space, on-site coffee shops, recreation spaces, and more.
There are many reasons why someone would choose to co-work. For some, it's the social aspect and the opportunity to network with other professionals. For others, it's the flexibility that coworking spaces offer. And for some, it's simply the cost-savings associated with sharing an office space instead of renting their own.
The History of Coworking
The concept of coworking is not new. In fact, it's been around for centuries. The term "coworking" was first coined in 2005 by Brad Neuberg, who is credited with inventing the modern coworking movement.
However, the roots of flexible office spaces go back much further than that. One of the earliest examples of coworking can be found in Ancient Greece, where philosophers and thinkers would gather in public spaces to share ideas and debate principles. This tradition continued in 17th-century coffeehouses in London, which were often frequented by writers, artists, and politicians who used them as places to work and meet other like-minded people.
In recent years, there has been a resurgence in coworking spaces, with the first modern coworking space opening in San Francisco in 2005. Since then, the coworking movement has grown exponentially, with almost 19,000 coworking spaces now operating around the world.
The Growth of Coworking
The coworking model has seen explosive growth in recent years, especially with the pandemic altering the way people work. The global coworking space market size is expected to expand from $13.60 billion in 2021 to $16.17 billion this year. This growth is being driven by a number of factors, including the rise of the gig economy, the growth of startups and small businesses, and the increasing popularity of remote work.
There are now coworking spaces in almost every major city, and they come in all shapes and sizes. From large, corporate-owned spaces to small, independent businesses, there is a coworking community to suit everyone's needs.
Types of Coworking Spaces
The term "coworking space" can be used to describe a variety of different collaborative workspaces. There are private offices, multi-use spaces, shared offices, hot desk rental schemes, and even virtual office plans that offer coworking benefits without an actual physical space. Below, we will outline some of the most common types of workspaces:
Conventional/Open
These spaces are typically large, open-plan office environments with a variety of desk types and seating arrangements. They may also have private offices, meeting rooms, and other common areas.
Luxury Coworking Space/Lifestyle Coworking Spaces
These spaces are more like traditional executive suites, with private offices, meeting rooms, and other amenities such as concierge service and on-site cafes, bars, lounges, and even fitness centers.
Industry-Specific
These spaces are designed for people who work in specific industries, such as tech or startups. They often have industry-specific amenities and may offer mentorship or other resources.
Telecommuting/Virtual Office
Virtual office spaces provide a mailing address and other basic office services for remote workers who don't need a physical space to work from.
Private Workspaces
These are small, enclosed offices that can be rented by businesses or individuals. They typically come furnished and have all the amenities of a conventional coworking space.
Minimal/Bare Bones
These spaces are typically just large open rooms with desks, chairs, and internet access. They may not have any additional amenities or services, unlike your conventional coworking space.
Shared Space/Subleased
These are spaces that have been leased by another business and then subleased to coworking members. They may not have all the amenities of a conventional coworking space but are usually more affordable.
Venture/Incubators
These coworking spaces offer dedicated desks, resources, and support for startups and early-stage businesses. They often have access to mentors, investors, and other resources.
Top Advantages of Coworking
There are many reasons why people, especially independent workers, and digital nomads, choose to cowork, but the five most popular benefits of a coworking office space are:
Cost-Effective
Coworking spaces can be more cost-effective than leasing a traditional office space, especially for small businesses and startups. This is because you only pay for the space you need, and you don't have to worry about the costs of furnishing and maintaining an office.
Flexible
Coworking spaces offer a lot of flexibility, which is perfect for businesses that are growing or downscaling. You can easily increase or decrease your space as your needs change, and there is no long-term commitment required.
Community
One of the best things about coworking spaces is the community aspect. These spaces provide an opportunity to meet like-minded people and build a network of professionals.
Productivity
Many people find that they are more productive when they cowork. This is because they have access to all the resources they need, such as meeting rooms and printers, and there are no distractions compared to working from home.
Amenities
Coworking spaces often have a wide range of amenities, such as cafes, event spaces, and fitness centers. This can make your workday more enjoyable and help you stay healthy and fit.
Strategic Location
Coworking spaces are usually located in the heart of cities, which makes them convenient for commuting and gives you easy access to all the best that the city has to offer.
Read more: 14 Benefits of Coworking Spaces
Top Disadvantages of Coworking
While coworking spaces offer many advantages, there are also some potential drawbacks to consider. These include:
Lack of Privacy
If you're looking for private office space, coworking spaces may not be the best option. These spaces are designed for collaboration and social interaction, so you may feel like you're always on display. However, there are coworking spaces with a less open floor plan that offer dedicated workspaces separated into rooms or cubicles so you can work in a more private space.
Noise Levels
Since coworking spaces are usually open-plan, noise levels can be high. If you need complete silence to concentrate, you may find it difficult to get work done in these environments.
Distractions
The social environment of coworking spaces can also be a distraction for some people. If you have trouble staying focused, you may find it difficult to get work done surrounded by people who are chatting and working on their own projects.
Lack of Structure
If you need a more structured environment to be productive, coworking spaces may not be the best option. These spaces are designed for people who thrive in a flexible and unstructured environment.
Cost
While coworking spaces can be cost-effective compared to traditional offices, they can still be expensive depending on the location and amenities. But nowadays, there are more options for different coworking spaces at different price ranges.
Read more: How Much Does Coworking Cost?
Who Uses Coworking Spaces?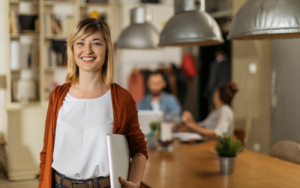 Now that we've looked at the advantages and disadvantages of coworking spaces, let's take a closer look at who uses these flexible work environments.
Small Businesses and Startups
Coworking spaces are perfect for small businesses and startups who want to reduce their overhead costs. These spaces provide all the amenities and resources that businesses need without the high price tag.
Freelancers and Solopreneurs
Freelancers and solopreneurs often use coworking spaces because they provide a more professional environment than working from home. These spaces also give creative freelancers the opportunity to build a network of other professionals.
Remote Workers
If you work remotely, you may find it difficult to stay connected with your team or meet other professionals in your field. Coworking spaces can help you solve both of these problems by providing a physical space to work and the opportunity to socialize and network with other people.
Large Companies
While coworking spaces are mostly used by SMEs and startups, some large companies are starting to have a presence in them as well.  These companies often have employees who work remotely or need a more flexible work environment than their corporate office.
As you can see, there are many different types of people who use coworking spaces. Whether you're a small business owner, freelancer, or remote worker, these spaces can offer a lot of benefits. If you're looking for more flexible and affordable office space, coworking may be the right option for you.
Read: Who Uses Coworking Spaces? Top Professionals and Industries Revealed
Top 6 Tips to Consider When Choosing a Coworking Space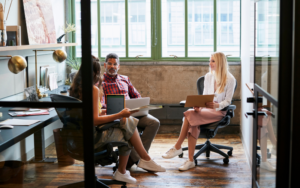 Now that you know who uses coworking spaces, let's take a look at some tips to consider when choosing one.
Location
The location of the coworking space is important for several reasons. First, you want to make sure it's convenient for commuting. If you have to travel a long distance to get to the office, you're less likely to go regularly. Second, the location can impact the type of clientele who use the space. If you want to be around other businesses in your industry, choose a space that's located in a central business district.
Amenities
When you're looking at coworking spaces, pay attention to the amenities that are included. Some spaces provide a kitchen, while others also have private meeting rooms or event spaces. Choose a space that offers the amenities you need to be productive and comfortable.
Atmosphere
The atmosphere of a coworking space can make a big difference in how productive you are. If you prefer a quiet environment, look for a space that has private offices or soundproofed rooms. If you like being around people, choose a space with an open floor plan and plenty of social areas.
Sense of Community
The community is one of the most important aspects of a coworking space. If you're looking for a space to network and build relationships, choose a space with a strong community feel. Look for spaces that host networking events and social events regularly if that's something you value in your work or business.
Budget
The cost of a coworking space can vary depending on the location, amenities, and community. Before you choose a space, make sure it's within your budget. Some spaces offer discounts for long-term commitments or membership packages that include additional perks.
Read more: How Much Does Coworking Cost?
Short-Term or Long-Term?
Think about how long you need the coworking space before you commit to anything. If you only need it for a short period of time, look for a space that offers flexible membership options. If you're looking for a more permanent solution, choose a space that offers long-term leases so you can save more money.
Now that you know who uses coworking spaces and what to look for when choosing one, it's time to start your search. With so many options available, you're sure to find the perfect space for your business or work needs.
Do some research online, visit different spaces in person, and talk to other professionals who use coworking spaces. By taking the time to find the right space, you'll be able to maximize your productivity and create a space that you enjoy working in.
The Future of Coworking
The coworking industry has seen a lot of growth in recent years, and it's showing no signs of slowing down. In the next decade, we can expect to see even more coworking spaces popping up around the world. With the rise of remote work and freelancing, these social spaces will continue to be popular among professionals who need a flexible work environment.
As the coworking industry grows, we can also expect to see more amenities and services being offered. Some spaces are already starting to offer childcare, wellness programs, and social events. We can also expect to see more technology being integrated into these spaces, such as VR meeting rooms and AI-powered assistants.
If you're looking for a place to work that's outside of the traditional office, a coworking space is a great option. With so many different types of spaces available, there's sure to be one that's perfect for your needs. Whether you're a freelancer, a small business owner, or a remote worker, these spaces can provide you with the community, flexibility, and amenities you need to be successful.
Should You Try Coworking?
If you're thinking about trying out a coworking space, there are a few things to consider. First, think about your work style and needs. Do you need a private office, or would you be comfortable working in an open space? What type of atmosphere do you prefer? Do you value networking and social events, or do you prefer a more low-key environment?
Once you've considered your needs, it's time to start your search for the perfect coworking space. With dozens of coworking spaces available, take your time and visit different spaces before making a decision. Talk to other professionals who use coworking spaces and get their insights on different places. By taking the time to find the right space, you'll be able to find a productive and enjoyable work environment.
Luxury Coworking Space in Brisbane
Mobo Co is a premier coworking space located inside the prestigious MOBO building and is the perfect place to cowork. Mobo Co's space offers plenty of natural light and various premium amenities to encourage creativity and productivity. Mobo Co also offers competitive prices and flexible membership options so that you can find what's right for your needs – whether it be just an hour or several days per month; we've got something to suit you perfectly. Book a tour today.