9 November 2022
14 Benefits of Coworking Spaces
If you're a business owner or a remote worker, you know that working from home isn't always feasible. You need the flexibility to meet with clients and take care of business tasks and you also need the space to focus and get work done. Coworking spaces offer the best of both worlds – they provide entrepreneurs and freelancers with a professional environment to work in, as well as the opportunity to network with others. In this blog, we tell you the reasons why coworking is all the buzz these days.
Rise of Coworking Spaces in Australia
Australia is seeing a boom in coworking spaces. As per a recent survey, the number of coworking spaces in Australia will triple by the year 2030. The rise of coworking spaces can be attributed to the changing nature of work. With more and more people working remotely, there is a need for flexible, shared workspaces that cater to the needs of these workers. In addition, the increasing demand for affordable office space has made it difficult for small businesses to find suitable workspaces. These factors have led to an increase in the popularity of coworking spaces in Australia.
What is a Coworking Space?
A coworking space is a shared office environment that is used by freelancers, remote workers, startups, and small businesses. These spaces are usually open-plan, with a variety of different work areas available, such as hot desks, meeting rooms, and lounge areas. Unlike traditional office spaces, coworking spaces are not leased by a single company – instead, members can rent desks or offices on a monthly basis. These flexible office spaces allow businesses to save money while providing their employees with a comfortable place to work, and it provides a dedicated desk for freelancers, remote employees, and independent contractors.
How does Coworking Work?
Most coworking spaces operate on a membership basis, with members paying a monthly or annual fee in exchange for access to the space and its facilities. Some coworking spaces also offer day passes, which allow members to use the space for a set number of days per month.
What are the advantages of Coworking Spaces?
There are a number of benefits of coworking spaces, which is why they have become such a popular option for entrepreneurs and small business owners. Here are fourteen benefits of coworking that you should consider if you're thinking about joining a coworking space.
Boost Your Productivity
Working from home can be quite isolating, which can make it difficult to stay focused and motivated. It can also be easy to get distracted by household tasks and other distractions. When you join a coworking environment, you'll be surrounded by other like-minded individuals who are also in the zone and are motivated to get work done. This can help to boost your productivity and keep you on track with your work.
Save Money
If you're working from home, you're likely paying for all of your own office costs, such as utilities, internet, and rent. When you join a coworking space, you are sharing these costs with other members, which can save you a lot of money in the long run. You can use the resources and facilities offered by your coworking space, such as printers, scanners, and internet connections, and if you choose one that's near your place you can also reduce your travel costs.
Read more: How Much Does Coworking Cost?
Build Your Network
When you join a coworking space, you'll be surrounded by other entrepreneurs and small business owners who are in similar situations as yourself. This is the perfect opportunity to network and build relationships that can be beneficial for both you and your business.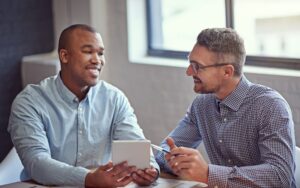 Improve Your Work/Life Balance
When you work from home, it can be difficult to switch off from work mode and relax. This can lead to burnout and a negative impact on your work/life balance. When you join a coworking space, you can leave work at the office and enjoy your evenings and weekends without having to think about work.
Enjoy Flexibility and Freedom
Most coworking spaces offer members a great deal of flexibility, which is perfect for those who need to juggle their work with other commitments. Many spaces offer 24/7 access, so you can come and go as you please. Some also offer month-to-month memberships, so you're not tied down to a long-term contract. Flexible working hours and flexible agreements are advantageous to freelance workers and small businesses looking for scalability.
Reduce Your Carbon Footprint
If you're looking for ways to reduce your carbon footprint, coworking is a great option. When you share an office with other people, you're using less energy and resources than if you were working from home or renting your own office space. Coworking also reduces the amount of waste produced when compared to traditional offices.
Beat loneliness and increase connection
When you work from home, it's easy to feel isolated and lonely. Joining a coworking space can help to reduce these feelings by providing you with a community of like-minded individuals to connect with.
Get Access to Better Facilities
If you're working from home, chances are you don't have access to all the facilities and amenities that you need. When you join a coworking space, you'll usually have access to better facilities, such as meeting rooms, kitchens, event spaces, and more.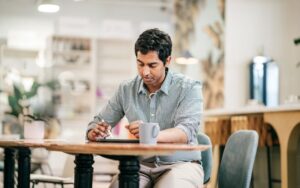 Have a Professional Address
A lot of businesses require a physical address, but not everyone can afford to rent their own office space. When you join a coworking space, you can use the space's address for your business, which can add a professional touch. At Mobo Co we also have a range of virtual office packages for those who prefer to work remotely or from home but want to appear more professional to their clients.
Enjoy Your Social Life
Coworking spaces often host social events, such as networking events, workshops, and social gatherings. These regular community events provide the perfect opportunity to meet other like-minded individuals and learn about new trends in your industry.
Get Support from Coworking Space Staff
When you join a coworking space, you'll usually have access to support from the space's staff. They can help with anything from finding a desk, to receiving your mail and even answering phone calls for you.
Work efficiently with faster WiFi
Tired of working from coffee shops because your home internet is too slow? When you join a coworking space, you'll usually have access to faster WiFi, so you can work more efficiently.
Get the advantages of a central location
If you choose a coworking space in a central location, you'll enjoy the benefits of being close to public transport, restaurants, and other businesses. This can make it easier for you to meet with clients and suppliers, and to attend events.
Feel a sense of connection and community
When you join a coworking community, you'll usually be surrounded by like-minded people who are motivated and passionate about their work. This can create a sense of community and belonging, which can make going to work more enjoyable.
Enjoy the Benefits of Coworking at Mobo Co
All in all, working in a coworking space has its perks. You get to meet new people from different industries, you get to enjoy a professional workspace on your own terms, and even get access to countless amenities like shared kitchens,  even gyms, and lounges.
If you're looking for a change of pace or simply want to try something new, then renting out a desk at a coworking space like Mobo Co might be the answer for you. Mobo Co is a premiere coworking space located within the stunning new MOBO building towering above South Bank. The office space spans four levels and totals 3,500sqm, with flexible work arrangements including dedicated desks, private offices, hot desks, meeting rooms, and video conferencing booths, offering ample space for businesses of all types and sizes.
Book a tour and see our cutting-edge coworking space yourself.
Keep reading: What is coworking? A Complete Guide to Choosing the Coworking Space for you