2 November 2022
How Much Does Coworking Cost In Brisbane? (2023 Guide)
As the cost of real estate in Australia continues to skyrocket, many professionals and business owners are choosing coworking spaces as a more affordable and flexible option. But how much does coworking really cost in Brisbane? This comprehensive guide will break down the costs of coworking in Brisbane, so you can find the perfect fit for your needs. So whether you're just starting out in your freelancing career or you're looking for a more affordable alternative to renting office space for your company, read on to find out all you need to know about coworking in Brisbane!
What are coworking spaces?
Coworking spaces are shared office environments and flexible workspaces that allow freelancers, remote workers, and small businesses to rent workspace on a per-desk or per-month basis. Coworking spaces typically offer a range of facilities and services, such as meeting rooms, event spaces, high-speed wi-fi, and business support services. In recent years, coworking spaces have become increasingly popular as more people are choosing to freelance or work remotely.
Coworking in Brisbane, Australia
Coworking spaces have become increasingly popular in recent years, and Brisbane is no exception. Coworking spaces provide a flexible and cost-effective alternative to traditional office space, and they offer a range of amenities that can be appealing to businesses of all sizes. Typical coworking environments typically offer a variety of private offices, shared workspace, meeting rooms, and event spaces, as well as access to common areas such as kitchen facilities and break rooms. In addition, coworking spaces often provide membership plans that give businesses access to a network of like-minded professionals. This can be particularly beneficial for small businesses or entrepreneurs who are seeking collaborative opportunities. With so much to offer, it's no wonder that the coworking space industry is booming in Brisbane.
Workspace Options in Brisbane
When it comes to finding workspace in Brisbane, there are a few different options to consider. You can opt for traditional office space, which is usually more expensive and inflexible, or you can choose hotdesking in a coworking space, which offers a more flexible and affordable option. Here are some of your workspace options when in Brisbane:
Virtual Office
A virtual office is a great option for businesses that don't need a physical space to operate. With a virtual office, you can have a business address and phone number in Brisbane without actually renting any office space. This can be a great way to reduce your overhead costs while still maintaining a professional presence in the city.
Dedicated Desk Membership
A dedicated desk is a good option for businesses that need a physical space to work but don't need their own private office. Dedicated desks are usually located in a shared workspace, and they come with all the same amenities as private offices. The main difference is that you will be sharing your space with other professionals.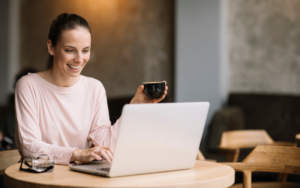 Office Suites
Office suites are a good option for businesses that need their own private space. Office suites come in various sizes, typically including a reception area, meeting rooms, and private offices. Office suites can be a great option for larger teams that want the privacy of their own space but still want to have access to the amenities of a cowork.
Meeting Rooms
Meeting rooms are a great option for businesses that need space to meet with clients or collaborate with employees. Meeting room access can be rented by the hour, and they typically come equipped with all the necessary audio-visual equipment.
The Cost of Coworking Spaces in Brisbane
The cost of office space in Brisbane will vary depending on a number of factors, such as the type of workspace you choose, the location of the office, and the amenities you require. To get an accurate estimate of the cost of office space in Brisbane, it's important to consider all of these factors.
Type of Workspace
The type of workspace you choose will have a big impact on the cost of your office space. Private offices and office suites will usually be more expensive than shared workspace or meeting rooms. Whatever your needs maybe there are lots of flexible office spaces you can choose from.
Location
The location of your Brisbane co-working space will also affect the cost. Offices in CBD locations, accessible via public transport and near restaurants and other amenities, will usually be more expensive than those located in outer suburbs.
Amenities
The amenities you require will also affect the cost of your office space. If you need access to collaborative workspaces like meeting rooms and event spaces, for example, you should expect to pay more than if you just need a dedicated desk in a shared workspace. Some standard amenities in coworking spaces are:
High-speed internet
Printing services
Private Phone Booths
Kitchen and Pantry
Exercise Studio
Onsite staff
Air Conditioning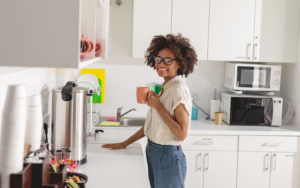 Read more: 14 Benefits of Coworking Spaces
Coworking at Mobo Co
Located within the stunning new MOBO building in the vibrant community of South Bank, Brisbane, Mobo Co spans four levels and totals 3,500sqm. Our premium co-working space offers flexible work arrangements including dedicated desks, private offices, hot desks, meeting rooms, and video conferencing booths, Mobo Co offers ample space for businesses of all types and sizes.
In addition to our prime Brisbane CBD location, Mobo Co offers a range of services and premium amenities that are designed to make work your escape. Our on-site cafe, restaurants, wellness services, concierge, and 24/7 access are just some of the perks that our members enjoy.
Coworking Pricing Plans at Mobo Co, South Brisbane
Mobo Co has several options when it comes to using our coworking space, depending on your needs:
Dedicated desk coworking packages
$500/month, which grants you 24/7 access to our Coworking Lounge, includes $200/month in meeting room hire credits, and access to our amenities and office supplies.
Virtual Coworking
This additionally grants you the use of our phone answering services and lets you list our business address as your own – great for putting your name on the map in the heart of Brisbane's CBD, for just $350/month.
Learn more about our Virtual Office packages.
Premium Suites
This gets you all of the above as well as inclusive use of our fully furnished meeting rooms for $700/month + GST.
Hot Desk
Hot desking at Mobo Co is the perfect way to get some work done while you are in Brisbane. Hot Desking rates at Mobo Co start from just $250+GST a month.
Book a tour of Mobo Co
If you're looking for a coworking space in the heart of the fast-paced city that is Brisbane, look no further than Mobo Co. Our coworking space is conveniently located near public transit and has all the amenities you need to be productive, electric sit-to-stand desks, high-speed wifi, on-site cafe and dining, and many more.
We offer tours from 9 AM to 4:30 PM, Mondays to Fridays. Book a tour today and see what makes Mobo Co the best coworking space in town.
Keep reading: What is coworking? A Complete Guide to Choosing the Coworking Space for You