2 January 2023
How to Create a Collaborative Workspace in 2023
As the world becomes increasingly digitized, the need for effective collaboration increases. To stay ahead of the competition, businesses must find ways to work together seamlessly and efficiently. Here are three tips for creating a collaborative workspace in 2023.
What is a collaborative working space?
A collaborative workspace is a physical or virtual space where people can come together to work on projects. The concept of a collaborative workspace has been around for centuries, but it has become increasingly popular in recent years as technological advances have made it easier for people to connect and work together remotely. There are many different types of collaborative workspaces, but they all share the common goal of promoting collaboration and creativity. Collaborative workspaces typically provide a variety of resources and amenities that encourage people to interact and work together, such as meeting rooms, whiteboards, and projectors. Some collaborative workspaces are open to the public, while others are only available to members or employees of a specific organization. Regardless of their size or scope, all collaborative workspaces share the same basic goal: to create an environment that fosters collaboration and creativity.
Types of Collaborative Work Environment
There are three main types of collaborative workspaces: virtual, physical, and hybrid.
Virtual workspaces
These are online spaces that allow people to connect through an internet connection or software program. They come in the form of collaboration softwares, or virtual meeting platforms. These spaces are ideal for remote workers and freelancers who need to connect with each other but are unable to do so in person.
Physical workspaces
These are physical spaces such as offices, coworking spaces, or conference rooms that have been designed to promote collaboration and creativity.
People can come together in a physical workspace to work on projects and brainstorm ideas. These spaces often feature amenities such as whiteboards, meeting rooms, and projectors.
Hybrid workspaces
These are workspaces that combine elements of both virtual and physical spaces. They typically include both an online platform for remote teams to connect, as well as physical amenities like meeting rooms and whiteboards. This is a common setup, especially after the Covid-19 pandemic as it allows organizations to keep their teams connected while still maintaining social distancing.
The advantages of a Collaborative Office Environment
Packed into small, stuffy offices and cubicles, workers in Australia are starting to realise the benefits of hot desking and collaborative workspaces. The days of working in a cramped cubicle are quickly coming to an end, as more and more people are realising the many advantages of working in an environment that encourages collaboration. From increased productivity to improved creativity, there are plenty of reasons why you should make the switch to a collaborative workspace. Keep reading for a closer look at some of the biggest benefits.
1. Agility to move at the speed of business
Collaborative workspaces allow companies to quickly adjust to changes in the market and stay ahead of their competition. By creating an environment where teams can easily communicate with each other and work together on projects, businesses can move quickly and make decisions quickly. This agility gives them a competitive edge and helps them to remain agile in an ever-changing business
2. Easy move-in and fast setup
Moving into a new office can be an incredibly time-consuming and expensive process. With collaborative workspaces, the setup is much faster and more cost-effective. Since the majority of these spaces are already furnished with desks, chairs and other amenities, all you have to do is move in your equipment and get started.
3. Office space in prime locations
Collaborative workspaces are often located in prime locations, making them ideal for companies looking to save on rent and put their employees closer to the action. With so many options available, you can easily find a collaborative workspace in the heart of your city or even have one custom-built for your company.
4. Increased collaboration and productivity
One of the major benefits of collaborative workspaces is that they offer a variety of resources and amenities that encourage teams to work on projects together. With comfortable huddle spaces, meeting rooms, whiteboards and projectors, teams can easily break down barriers and work together more efficiently. This increased level of collaboration often leads to improved productivity, as teams are able to make decisions faster
4. Cost-efficiency
Collaborative workspaces are incredibly cost-efficient. With low overhead costs and easy setup, businesses can save a significant amount of money by choosing to work in a collaborative workspace instead of a traditional office space. These cost savings can help businesses focus more on their core operations and less on the costly upkeep of an office.
5. All-inclusive amenities
In addition to the standard amenities of a typical workspace, most collaborative workspaces offer a variety of perks that make life easier for employees. From comfortable seating areas and on-site cafeterias to regular social activities, these all-inclusive amenities help foster collaboration and make work more enjoyable for everyone involved.
6. A community concierge
Most collaborative workspaces have a concierge service for members. This concierge takes care of all the little details like phone calls and mail so that teams can focus on their projects without having to worry about anything else. From scheduling meetings and handling requests to providing assistance with travel arrangements and other miscellaneous tasks, the concierge helps make life easier for everyone in the workspace.
7. Access to resources and tools
Collaborative workspaces offer access to a variety of resources, from business-grade Wi-Fi and high-end printing facilities to advanced software and hardware for product development. By having these resources readily available, teams are able to take their projects to the next level – with less stress and more success.
8. Flexible working hours
Finally, collaborative workspaces offer teams the freedom to work when and where they choose. This flexible approach means that teams can adjust their schedules to fit their needs and preferences while still getting quality work done. With 24/7 access, teams can also easily run late-night sessions without running into any issues.
9. Flexible workspace arrangements
Finally, most collaborative spaces offer flexible workspace arrangements that allow teams to switch up their workspace as needed. Whether it's an open-concept seating area, private offices or a combination of the two, teams can easily adjust their workspace to best suit their needs and get more done in less time.
10. Professional Image
Collaborative workspaces offer a professional image that clients and partners will appreciate. With a prime location, elegant furnishings, modern decor and access to high-end amenities, collaborative workspaces can help businesses project an air of sophistication and success. This also helps teams establish better relationships with their customers, as they are seen as more trustworthy and reliable – qualities that always
11. Networking opportunities
By working in a collaborative workspace, teams can take advantage of networking opportunities with other members. This helps them to gain valuable insights and create new partnerships that could potentially help their business grow and succeed. Additionally, having access to such a diverse set of professionals and entrepreneurs can also provide invaluable mentorship for those just starting out.
12. Sustainability
Collaborative workspaces are also a great way to help businesses be more sustainable. By sharing resources and using fewer materials, teams can reduce their carbon footprint significantly and make a positive impact on the environment. Moreover, most collaborative spaces are actively working towards becoming greener by investing in renewable energy sources and other eco-friendly initiatives.
Suggested Reading: 14 Benefits of Coworking Spaces
How do you create a collaborative workspace?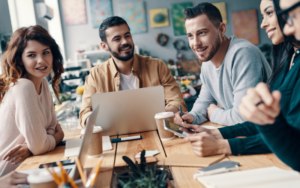 When it comes to creating a collaborative workspace, there are a few key considerations.
Decide on the type of space you need
Think about the size of your team and what type of space would work best for them. Do you need an open-plan area or a hybrid layout with private offices?
Choose a location
The location should fit both your budget and needs. A central, easily accessible spot is ideal to attract more members and give teams easy access to resources.
Choose your amenities
Make sure that the space comes with all the amenities you need, such as Wi-Fi, printing facilities and high-end hardware. You may also want to include a concierge service to help with miscellaneous tasks.
Design the workspace
Once you have settled on a location, design the space in a way that best suits your team's needs. This could mean an open-concept seating area, private offices or a combination of the two.
Select software and tools
Choose the right software and tools to help teams work collaboratively and securely. This could include project management apps, collaboration platforms and cloud storage solutions.
Encourage a collaborative environment
To maximize collaboration opportunities, make sure to create spaces that are conducive for this. This could be a members' lounge or an area for hosting meetings and workshops.
By following these steps, teams can create the ultimate collaborative workspace that will help them stay organized, productive and connected in 2023. Whether you choose to rent your own dedicated office, or bring your team to a premium coworking space like Mobo Co, having a collaborative workspace is sure to be an invaluable asset for any business. With its wide range of benefits and features, teams can rest assured that their collaborative workspace will set them up for success in the years to come.
Suggested Reading: Post COVID, business demands flexibility on office space
Get Your Own Private Office Space in the South Bank
Mobo Co is a leading provider of private office spaces in the South Bank. We offer a wide range of office space options to suit your budget and business needs. Mobo Co is perfect for businesses of all sizes, from start-ups to larger corporations. Our team of experts will work with you to find the perfect collaborative office space for your business. Mobo Co is also conveniently located close to transport links and the liveliest bars and restaurants in the precinct. Contact us today to find out more about our private office space options.